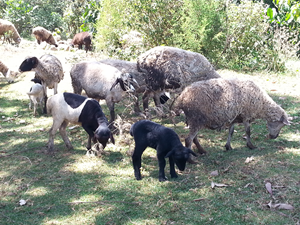 A Psalm of David.
23
The Lord is my shepherd,
I shall not want.
He makes me lie down in green pastures;
He leads me beside quiet waters.
He restores my soul;
He guides me in the paths of righteousness
For His name's sake.
Even though I walk through the valley
of the shadow of death,
I fear no evil, for You are with me;
Your rod and Your staff, they comfort me.
You prepare a table before me
in the presence of my enemies;
You have anointed my head with oil;
My cup overflows.
Surely goodness and lovingkindness will follow me
all the days of my life,
And I will dwell in the house of the Lord forever.
I have just returned from a journey like no other.  I've been to His green pasture with quiet water to seek restoration of the soul and guidance for His path of righteousness.  The journey was not intended for me but our congregation sent a team of willing workers to minister to our front line fieldworkers who serve in a sensitive area that is extremely hot and dry. I was privileged to be numbered among those who were sent out.  His fieldworkers have been laboring long and hard and were growing weary in the heat and barrenness of the climate and it was beginning to take a toll on their spiritual well-being as well. So the leadership, along with the congregation, chose to not only send representatives to go to visit them but also to cover the worker's expenses to bring them out of the hot barren field in which they worked to a cool green field to minister to them spiritually and physically.
If we are honest with ourselves, many of us feel spiritually dry and weary from time to time, pushing ourselves to the point that we struggle to find our own quite time with God. Whatever our location we all feel the heat of the spiritual battle, we all need to seek out our 'tent of meeting' to pour out our hearts to God and to sit and listen to what He would say.  So, when we journeyed thousands of miles to bring a cup of cool water in hosting a spiritual retreat for  our brothers and sisters it is no surprise that God was there waiting for us, yes for even me.  What's greater still is that this meeting was anticipated with great eagerness and joy by both of us; His greeting for me was immensely evident and personal.   He took my favorite Psalm and presented it to me in a visual aid on Easter Sunday morning before one message from the Word had been shared with those who were gathering. To my great delight, my Father shared His Word to me; He was there for me; I am His and in this I rejoiced with songs of joy as we entered His gates with thanksgiving.
A Psalm for Thanksgiving.
100
Shout joyfully to the Lord, all the earth.
Serve the Lord with gladness;
Come before Him with joyful singing.
Know that the Lord Himself is God;
It is He who has made us, and not we ourselves;
We are His people and the sheep of His pasture.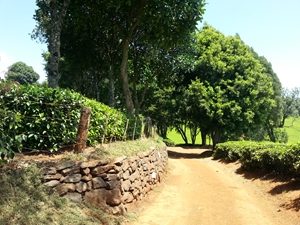 Enter His gates with thanksgiving
And His courts with praise.
Give thanks to Him, bless His name.
For the Lord is good;
His lovingkindness is everlasting
And His faithfulness to all generations.
Upon our return, we were asked to describe our experience to the congregation in one word; I chose the word 'Intimate'.  Intimate because God was extremely up-close and personal with all who were involved; with the field workers, with the team, with the sending congregation and yes, with even me.  It is no surprise that God is personal, we hear it, we know it with our heads but often miss it with our hearts or get to experience it in visual form.  When we take time to meet with our Father, the Good Shepherd, in the heat of our spiritual battles, His presence and readiness to give us our requests and the desires of our hearts is so evident that none can deny His listening ear or orchestration over each detail that would serve to bring worship to a place where once there was none; worship born out of gratitude and joy, the gift of praise through the voice of the heart of His creation; the apple of His eye – we, the sheep of His pasture.
So, this is what partnership in the gospel really looks like. This was truly a journey with God like no other, a journey that I pray all sending churches would consider to provide for their supported workers.  I urge you to consider prayerfully making a journey to host a spiritual retreat for your dear workers to sing praises together, to feed them with the words of encouragement from the Word, to listen to their needs and the desires of their hearts vision for the kingdom work, to lay your hands on them and pray with them with greater insight than ever before. Then don't forget to find time to just relax and enjoy fellowship with one another, yes fun time, we all need it.  When you return to report the work to your congregation you can share the prayer request of your partners in the gospel first hand and you will find that you better know how to provide their needs, physical as well as spiritual.  I believe that if more of us would minister to our workers in this way that we would all be more productive in bringing worship to a land where there is none and glory to His great name.
"…  For the Lord is good; His lovingkindness is everlasting And His faithfulness to all generations."