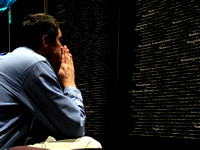 by Linda Lucas
You've encountered a reality check, your vision has been enhanced, your heart has been tendered for unreached souls to know and worship God who has paid their ransom and you long to run into uncharted lands and peoples to proclaim pardon and freedom in Christ Jesus!   You have the Light and Word, His Holy Spirit living in you and they can too! God's call upon your life has enlarged your heart compelling you to make an impact within an unreached people group for the glory of our Father. You have sought to cast the vision to your brothers and sisters and invited them to join you in the race; you look back and to your dismay, no one is following the trail you're blazing and now maybe you have found yourself weary and alone on this journey with God.
If you have experienced this scenario, you are not alone, as the enemy would have you believe.  This journey we are on is not a sprint it is a marathon.  Some of us may have expended much of our energy on the shot out of the gate but we must not stop our feet from moving forward to finish the journey we've begun.  Slow our pace, catch our breath, and re-chart our course if need be but we must not grow weary and quit.  Did we think this mission would be easy? Did we think we could do it of our own power? Have we become disillusioned that the resistance we've encountered is about us?
It is an easy trap to fall into, to think maybe we've misunderstood God's call, we are working with a people of heard heart and the resistance is impenetrable, we are alone in our vision, our hopes will never come to pass.  Lies, I tell you! Lies!  Listen not to the lies of the enemy!  We know he will never give us any territory without a vicious fight; he is no respecter of person, age, race or position and he will use any means necessary to stop us.   Not to give him any credit or time but we must know our enemy's tactics and recognize them for what they are.  We must remember that our God is greater and He has called us to meet with Him of such matters on our knees in prayer and rise up in the power of His Word and promises and forge our way forward fully clad in His armor.
If you have been struggling in the battle, again I say, you are not alone; I would encourage you to be patient and wait upon the Lord but but let us not be idle in this journey that God has invited us on.  God's word has told us that the gates of hell cannot prevail; God will see this mission through.  He is the one who adds to the numbers being saved, no us.  He is the one who measures success, not man.  Let us continue to be faithful in prayer for those He has placed upon our heart.  Let us remember that He hears us and know that He is on the move to accomplish His will according to His perfect timing.  Let us stand tall in the assurance that God has already won, the victory is His!
Hebrews chapter eleven recounts to us numerous heroes of faith, one after the other with lifelong challenges and struggles that were overcome through faith in the One who is faithful.  Chapter twelve begins by challenging us to be aware that we are surrounded by a great cloud of witnesses that have shown us that it can be done!
"Therefore, since we are surrounded by such a great cloud of witnesses,
let us throw off everything that hinders and the sin that so easily entangles,
to run with perseverance the race marked out for us.
Let us fix our eyes on Jesus, the author and perfecter of our faith,
who for the joy set before Him endured the cross, scorning it's shame,
and sat down at the right hand of the throne of God. 
Consider Him who endured such opposition from sinful men,
so that you will not grow weary and lose heart."
Heb. 12:1-3
So brother, so sister, let's take but one step at a time.  In the seasons of waiting let us remember that our God is faithful to see this journey to completion. Whether or not we are privileged to see and experience the fruit of our labor, we know that Hebrews also calls us to hold unswervingly to the hope we profess, for He who promised is faithful.   Joy will come in the morning!
If you would like to listen to the testimony of those who are charting these waters speak frankly and openly about what God is doing through those who have risen to the challenge to make a difference in and among a specific people group, whose words and hearts have inspired me to share this article with you, you can log-in to the Resources / webinar / archives for March 13, 2014 to listen and see what God may speak to your heart as He has mine.