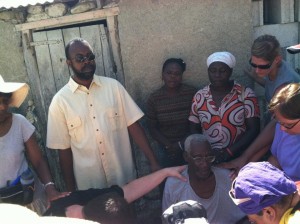 by Linda Lucas
Prayer is so much more than we commonly perceive and is made possible at great cost to our Father, we all too often fail to stop and count the cost to Him.   When we think of Jesus in the garden the night he was betrayed, pleading desperately with His Father that if there be any other way for redemption to let this cup pass from Him, to the point of sweating drops of blood. As a mother of three sons I am pierced to the core of my very soul to envision the Father looking upon His only begotten Son in such a state and telling Him there is no other way. Oh Lord forbid, we should ever consider prayer to be; simply prayer, a last resort, a spiritual discipline, something we have trouble finding time for….. We petition You, Father, for more workers and thank you for the harvest you have promised to bring from every tribe tongue and nation!
In a recent mission journey to Haiti, with Lifeline Christian Mission (http://www.lifeline.org/ ), my heart was deeply touched as we were invited to join Pastor Luc and the ladies of the Prayer Ministry of the Church in Grand Goave, Haiti as they journeyed house to house of their church members to pray with them.  I was moved as I heard their requests that varied from illness and total disability, to education and testing; from broken relationships and new marriages to persecution and freedom from superstitious fears that are a constant struggle to leave behind.  These overwhelming needs brought tears to my eyes and down my cheeks. I caught a glimpse of the heart and struggles of my brothers and sisters and their passion for their Lord and Savior that enlightened and filled my heart with love and greater understanding of the global Church at work. Yet, what inspired me most was the elderly servant of God, who though feeble and frail, asked us to pray for him to have strength to continue to preach and minister the word of God to this community even after decades of service of doing just that.
My heart was truly touched and blessed to better understand not only how to pray for my brothers and sisters, but how to pray with them. We seek through prayer to better know the heart and will of our Father, as we come to pray in harmony with His heart's desire, this then becomes the fulfillment of Jesus prayer in the garden for us; to be one with our Father as Jesus is one with the Father, His Spirit and will becoming ours. What unspeakable joy!
How priceless, how blessed we were to pray for and with each other. To sing and quote Scripture together each in our own languages yet one and the same words to our Lord is always an unspeakable joy, surly a sight and sound of pure delight and, a fragrant aroma rising as incense to our Father who has inclined His ear to hear His children.
"My prayer is not for them alone. I pray also for those who will believe in me through their message, that all of them may be one, Father, just as you are in me and I am in you. May they also be in us so that the world may believe that you have sent me."John. 17:20-21
I am awed by our God. I am awed by the cost that Jesus paid for this to be possible for us, for me. May I never again take for granted or treat lightly the privilege of prayer and the intent our Father has for intercession and its part in this spiritual battle. The power is not in prayer itself but in the blood of Jesus that He willfully shed at extremely great cost to himself to make it possible for us to be redeemed and reconciled in order to restore us into perfect harmony and fellowship with our Father for His glory, for truly we were created by Him and for Him. Oh that I would grasp this truth, wrap my heart and mind around it and never let it go! Yes LORD, may the global Church ceaselessly raise her prayers as incense before you, a pleasing aroma, to you our Father, who makes us one in Jesus name! ….. AMEN!
 "I tell you the truth, anyone who has faith in me will do what I have been doing. He will do even greater things than these, because I am going to the Father. And I will do whatever you ask in my name, so that the Son may bring glory to the Father. You may ask me for anything in my name, and I will do it" (John 14:12–14).
 With over 6,900 people groups yet unreached with the gospel of Jesus and such a promise in this verse in John set at our bidding, we must persevere and endure to finish well this race we are in.  Like our elderly brother and servant of God in Haiti, let us seek God together in asking for the nations, for this is God's will, that none should parish but have everlasting life.  If this is what our Father's heart and passion is, it should be mine as well. The Church, one in Christ, is well and vibrant yet the work is a heavy load not intended to be carried alone.  Yes, the harvest is yet plentiful but the workers are few, ask the Lord of the harvest therefore to send out workers into His harvest fields, to the glory of God.