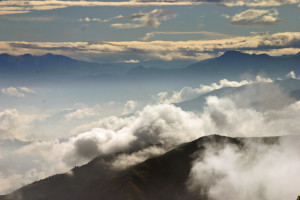 by Linda Lucas
Do you have children?  How much do you love them?  What would it take for you to consider giving them up for the sake of another?  What would you do if ever they were kidnapped or stolen for human trafficking?
Just recently I watched the movie "Taken" for the second time.  It troubled me the first time, is disturbs me even more the second.  What parent wouldn't identify with the heroic father in this movie and desire to hunt down those who were guilty of such heinous crimes to redeem their only child?
 Or maybe, you've had a child who chose to travel the way of the world, as you prayed unceasingly for that child to … just come home.  Oh, the pain our hearts endure because of our great love for them to be safe and home again.
 Several times over the past few months' three parables that are told back to back in Luke 15 have come to mind;  The Lost Coin, the Lost Sheep and the Prodigal Son.   Three times Jesus shares with his listeners the seeking heart of our Father in affirmation of His tremendous love for us and the action He has taken for those who are lost.
 I am increasingly impacted by these parables as my understanding deepens, as a parent and now grandparent, of what He has shared and revealed of Himself as a loving Father in these stories.
 I love the words and the message of the old hymn:
 How Deep the Father's Love for Us
"How deep the Father's love for us,
How vast beyond all measure,
That He should give His only Son
to make a wretch His treasure.
How great the pain of searing loss,
The Father turns His face away
As wounds which mar the Chosen One
Bring many sons to glory"
In the message of this hymn lies the extent that our Father went to, to redeem His children and His promise that He will accomplish what He has promised:
"Be still and know that I am God,  I will be exalted among the nations;
I will be exalted in the earth."
Psalm 46:10
 Can you see the Father of the prodigal son, watching and waiting for His repentant son to return?  Then at long last, one day he lifts His eyes to catch a glimpse of his repentant son, yet afar off, staggering helplessly home.  Now, does your heart begin to feel what our Father must feel?  That deep, deep longing for His children to … just come home.
 Being raised, not only in the church but also as a preacher's kid, it was a long time before I could realize the reason that I had difficulty relating to this parable.  I was like the older son who, though he was not perfect by any means, had always known the goodness of the Father.  I have since come to also realize my responsibility to share that goodness with others, it is not meant to be kept to myself but to be shared with the same passion that the Father has lavished on me.
Sometimes we find ourselves working so very hard to fulfill our responsibility that we try to take on more than we were ever intend to and oft times we can slip into our old habits of anxiety and worry when we see how many are yet lost and needing to just come home.
 One day, Jesus was telling the crowds of people not to worry about the things of this world, what you will eat and what you will wear, but to seek first His kingdom and His righteousness and all these things will be added unto you.
 When thinking of this passage we seem to always to default to Matthew chapter 6 in the Sermon on the Mount.  However, this past week the parallel passage of Luke chapter 12 was in my studies when the verses following this text deeply touched me and I wondered why I hadn't seem to notice them before. Verses 32-34 state:
 "Do not be afraid, little flock,
for your Father has been pleased to give you the kingdom. 
Sell your possessions and give to the poor. 
Provide purses for yourselves that well not wear out,
a treasure in heaven that will not be exhausted, where no moth destroys. 
For where your heart is, there your treasure will be also."
 Why is it we seem to know verse 31, "Seek his kingdom…" and verse 34, "For where your heart is …" but who knows verses 32-33?  Do they make us too uncomfortable? Thus the reason for the worry Christ was addressing? … Jesus then tells us …
"Do not be afraid, little flock, for your Father has been pleased to give you the kingdom."
There are yet millions of lost sheep in this world that need us to reflect the seeking heart of our Father. Do we hear the Father here, telling us, His 'little flock' that are safe in the fold, to be like Him?… Leave all to reach out to those who are poor?  He tells us that in doing so we are assured of a much greater treasure in heaven.  Where is our heart's treasure?  Is it crying out with our Father's, to those who are lost…. 'Just come home!"?